Conscious Cup Coffee Roasters- Voted best coffee by residents for the last four years, coffee-lovers won't want to leave after trying

a sip of this award-winning coffee. But it's not just locals who are raving about Conscious Cup. Five of their roasts have received a
rating of "Outstanding" by the national Coffee Review. Every bean is roasted right in their store from the world's best economically
and environmentally sustainable small-plot and cooperative farms. And every farmer earns a fair-price for his or her labor. This a
cup of coffee you can feel great about drinking. Located in Crystal Lake.
Morkes Chocolates- Morkes offers a unique experience, allowing opportunities for guests to go behind the scenes of this classic
candy-shop. For groups booking in advance, Morkes will even hold candy making parties and classes. See how their gourmet
chocolate is made while getting some tasty souvenirs for the return trip. Located in Huntley.
Ethereal Confections*- One of the most eclectic candy shop experiences in Illinois by far. If you've been waiting for a candy shop

that compliments your moustache and bowler hat combo, this just might be the place for you. Ethereal is a bean-to-bar chocolatier,
meaning every piece of chocolate they sell is prepared in house, right from the cocoa bean. But that's not the only thing that makes
Ethereal unique. Maybe you're feeling like a Chocolate Kissed Raspberry Latte or the Journeyman Bourbon & Single Origin
Dominican Republic Chocolate. The options truly are ethereal, with a full bar and café, both perfectly infused with a chocolate
lover's paradise. From desserts to beverages, you can take your pick. The confections cafe features a full beer, wine and spirits
menu, as well as locally roasted coffees from Conscious Cup, cheeses and pre-defined pairings. Located in Woodstock.
Anderson's Candy Shop- Named among the best candy makers in the country by Los Angeles Times and Consumers Digest,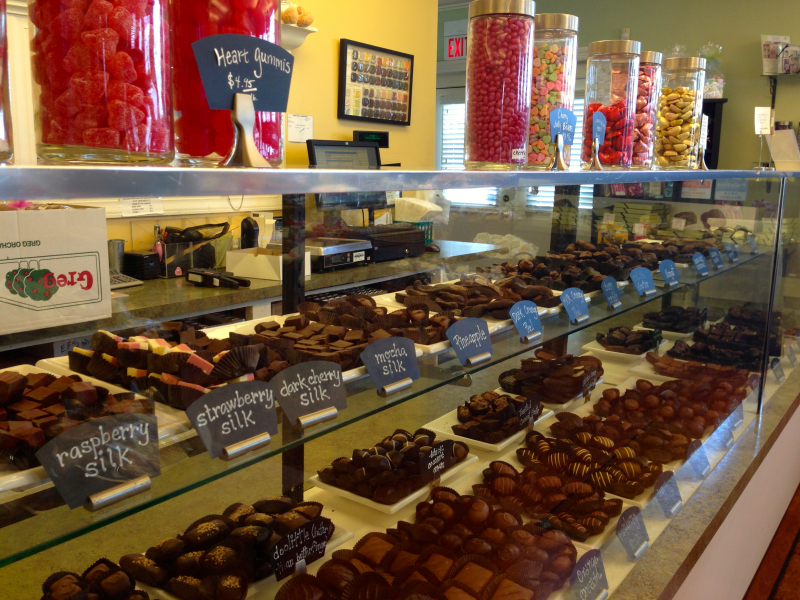 Anderson's Candy Shop has been in the candy business for four generations. The Anderson family began making chocolates back in 1919, and not
much has changed since then. Specializing in gourmet chocolates, every piece of Anderson's Candy is handmade with the best
ingredients, right here in McHenry County. Located in Richmond.
*Located right off Metra's Union Pacific/Northwest Line.